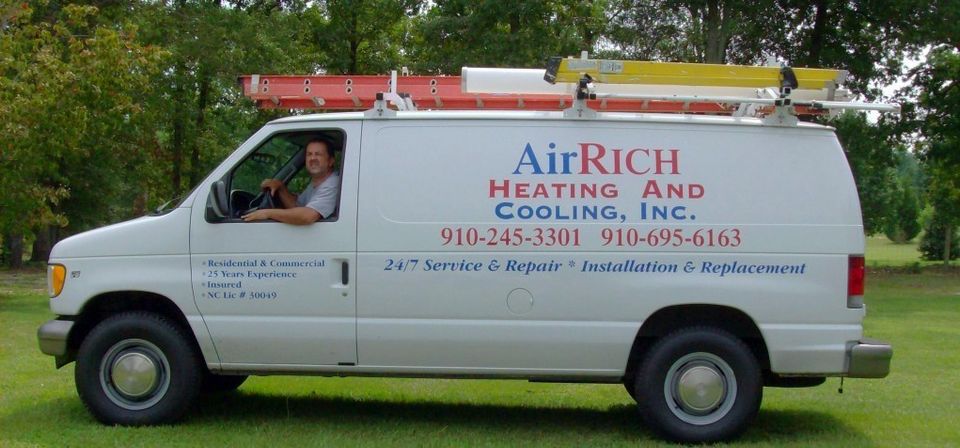 Customer Reviews for AirRICH Heating and Cooling, Inc.
Absolutely amazing company! I would highly recommend them anyone. After 2 other companies tried, and failed, to diagnose and fix the ac issues we were having, they came out and did a phenomenal job. They were able to correctly diagnose the issues and return the estimate promptly on the next business day. A few days after that, our ac was fixed. This was in September. Today they came out to assist with an issue with our heat (we bought and self installed a thermostat from Lowes) and they came out to make sure that it wasn't something bigger. When they realized that it was just a thermostat issue, they could've just billed me and left, but they didn't. They went above and beyond and figured out what exactly was wrong and fixed it. I also have 3 kids and they were kind to our children and took the time to listen to anything that they said and interact with them.
— Melissa B. Facebook Review
Such a great experience! Friendly, knowledgeable, and easy to talk to. I had an issue and they were able to identify and fix it with no issues. They were able to fit me into their schedule the same day! Highly recommended from myself and others.
— Ellen D. Facebook Review
Wonderful people!!!! I highly recommend!
— Lori S. Facebook Review
Rich was awesome! Our A/C went out in the middle of 90+degree weather on the weekend. He came out personally on a Sunday night to diagnose the problem (after another company had tried unsuccessfully to fix our old unit with a tech that had a terrible attitude). He explained in detail what was wrong and that we would have to replace the a/c...what we were afraid of. He was able to replace our unit quickly and reasonably priced. Very professional and understanding. Definitely recommend Rich and his team. He will be the only one I call going forward when I need hvac service!!
This company is phenomenal , If i could i would give them 10 stars. Highly recommended Very affordable,,,
As a fellow business owner, I understand and appreciate honesty, punctuality, and professionalism. While I had an emergency with my home unit, they were able to respond within a couple of hours. During the time to resolve my issues, Rich noticed several potential damaging issues that were overlooked by the last contractor.

I will attest the professional service, integrity, and the highest quality of service one could expect from AirRich. They will be my go to HVAC service people for both my home and my business! They are worth the money, an exceptional value and excellent work.